Spicy Tuna Tartare With Sunflower Seeds And Chilmole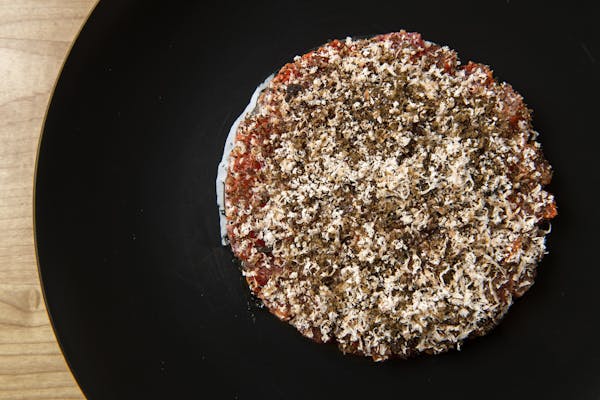 Here we use Mexican inspiration to make tuna tartare—one of the most ubiquitous and lame dishes in New York—interesting and special again.
The tuna itself is treated very minimally with virgin sunflower seed oil and a bit of finely minced ají dulce, a chile with all the flavor of a habanero but with none of the burn.
Beneath the tartare we place a dark and umami paste made of rice and sunflower seed. The paste mimics a classic Yucatecan botana named sikil pak, which literally translates to pumpkin seed-tomato. Sikil pak is generally served as a spread with tostadas, and we replicated this classic while substituting sunflower seeds for the pumpkin seeds in order to echo the special flavor of the oil.
The ají dulce is not the spicy factor in this dish, but rather chilmole instead. Another Yucatecan preparation, chilmole comes when immolated chiles are ground to a paste with garlic and spices. We use this to flavor salt-cured egg yolk as well as some smokey cured bonito, both of which get grated over the dish.
-Chef Alex Stupak
Available at Empellón (510 Madison Ave.)
Photo by Evan Sung