Short Rib Confit with Potatoes and Picadillo Garnish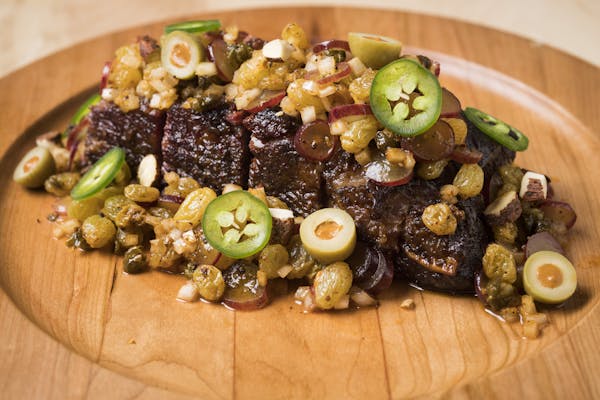 Picadillo comes from the word picar, which translates as "to mince." At its best, picadillo is an aromatic mixture of well-cooked shredded meat riddled with capers, raisins, olives, and spices, among other things. It's often used as a stuffing as well as a taco filling. But at its worst, it resembles pebbly ground beef with some onions and a spice packet added.
Like all food as fashion, the concepts of deconstruction came and went, but what is old inevitably becomes new again. Here, we bring the idea of deconstruction back, not for novelty but instead to improve presentation and, more importantly, to preserve a bit of textural integrity.
Short ribs have been boned out, rubbed with a spice mix, and gently cooked in rendered beef fat for a long time. It has all been smothered in a mixture of things that might find their way into a picadillo, and finally served with tortillas for making tacos. I prefer this end result because you can still get differentiated bites with pops of acid, sweetness, crunch, and brine.
-Chef Alex Stupak
Available at Empellón (510 Madison Ave.)
Photo by Evan Sung