Bay Scallop Crudo With Fermented Tomato And Tomato Water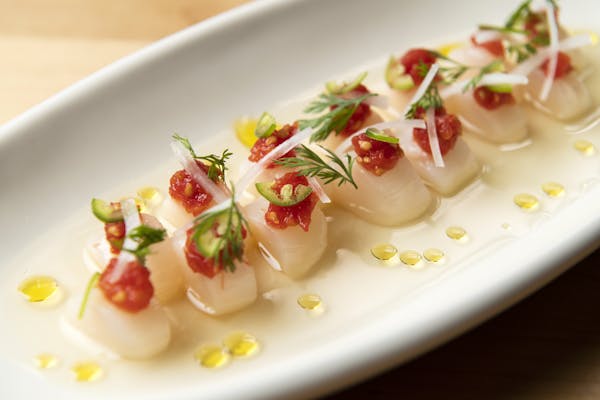 With summer tomatoes now fleeting, we have bought up all that we can. Some will get pureed and frozen for later use, but for others we have a more interesting way of preserving them: fermentation.
For this dish, tomatoes are fermented until they produce lactic acid, basically pickling themselves. The tomatoes take on both sour and umami flavors and produce water with all the same flavors. The tomatoes themselves are peeled, crushed, and dehydrated slightly. The fermented tomato water is clarified and chilled.
We use both components to flavor raw scallops. The dish also gets some fresh green chiles, onion, and cilantro as a nod to classic flavors of salsa Mexicana (a.k.a. pico de gallo to most Americans).
-Chef Alex Stupak
Available at Empellón (510 Madison Ave.)
Photo by Evan Sung