Queso Fundido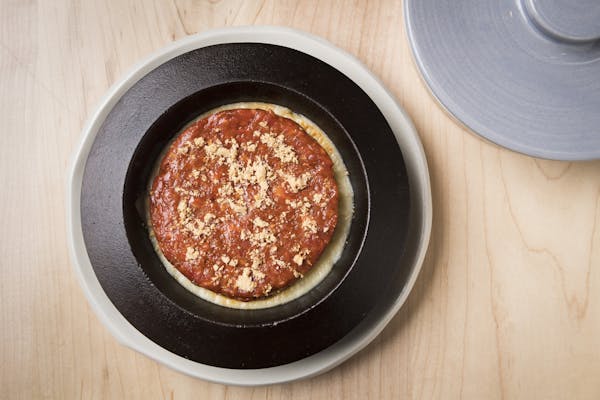 We all love queso fundido: warm soft stretchy melted cheese wrapped in a fluffy tortilla. It is undeniable. No one is above it.
After researching various precedents, we chose to serve a variety of toppings for our queso fundido. I believe that a love of melted cheese, ground beef, and crunchy corn is programmed into the DNA of all Americans. I used to feel embarrassed by this, but I have since made peace with myself and embrace it.
This dish is essentially a small vat of melted cheese topped with a patty of steak tartare and seasoned with toasted corn nuts. When scooped up into a warm tortilla, it becomes very gratifying--almost hedonistic, really--like eating a burger where the beef is screaming rare with perfectly melted cheese. Actually, it's better than that because there is five times the amount of cheese and it's now a taco. To be clear, tacos are better than burgers.
Consider another example. Using rajas, a classic topping comprised strips of roasted poblano chiles, as a point of inspiration led to a simple idea. Everyone seems to love shishito peppers, which are best when blistered and just oily enough to allow lots of coarse salt to adhere to them. For our dish, all we have done here is substitute one chile for another.
-Chef Alex Stupak
Available at Empellón (510 Madison Ave.)
Photo by Evan Sung