Queso Fresco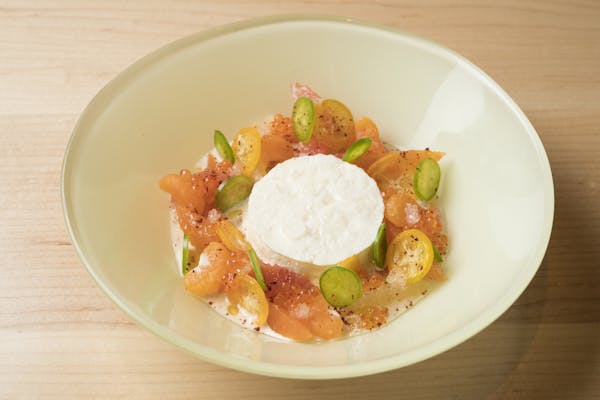 Most of the Mexican-style cheeses produced in the United States are worthless. Here's why: many of the laws our own government impose yield conditions that are far too antiseptic to replicate the flavors of the real stuff.
We source some cheeses for Empellón directly from contacts over the border, in addition to dealing with artisanal North American producers. We have also played with making some of the simpler unaged cheeses ourself.
This dish began with us discovering how great queso fresco can really be when made from local milk and served the same day. While we know that queso fresco translates to fresh cheese, we found it ironic that most of the queso fresco people eat isn't all that fresco at all. Serving burrata or mozzarella as the focal point of a dish is certainly warranted, and now we feel like queso fresco should be as well.
Here, we served an individual portion of queso fresco and surrounded it with trout roe and a salad of citrus fruits. We like the unique combination of flavors and textures as well as the simple idea of converting fresh milk into an appetizer.
(This dish was served at 510 Madison and is currently retired.)
-Chef Alex Stupak
Photo by Evan Sung