Pumpkin Seed Cappelletti with Achiote and Honeynut Squash Juice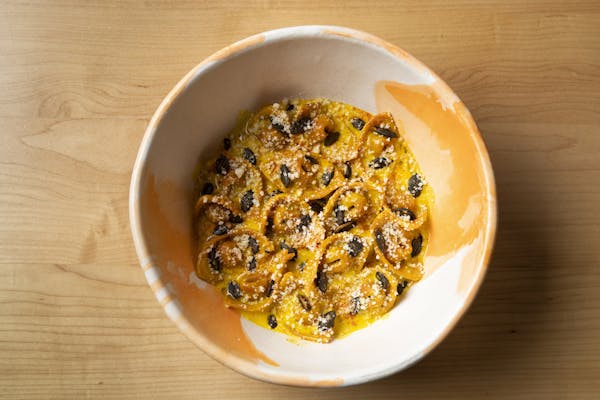 Ever since I learned how Mexican cooks prepare fideo, we have always had a version of it on the menu. The idea of a Mexican pasta dish is simply intriguing to me. After some time, we wanted to push the idea a bit further, so we began making our own pasta in-house to use as a substrate for this world of flavors.
Sikil pak literally translates to "pumpkin seed, tomato". It is a dip with a hummus-like consistency from the Yucatan. But rather than using it in its typical manner, we decided to try it as a pasta filling and the results were fantastic.
Our pasta is quite yellow because it is stained with achiote seeds. We fill it with our sikil pak and form it as cappelletti. The pasta sits atop a dense mash of honey nut squash. The sauce is honey nut squash juice mounted with butter.
-Chef Alex Stupak
Available at Empellón (510 Madison Ave.)
Photo by Evan Sung