Masa Stuffed Clams With Bacon And Burnt Oregano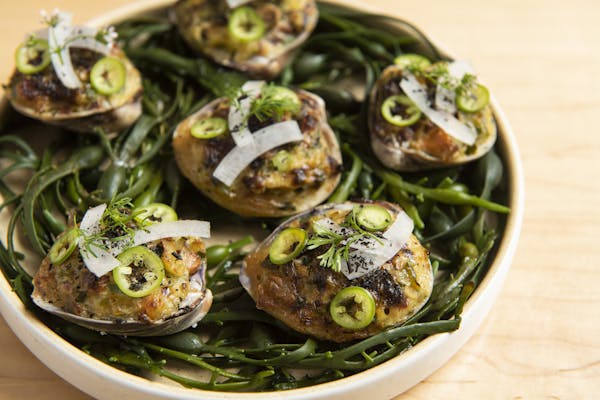 As a white kid from suburban Massachusetts, I did not grow up with any particular traditions or flavors. Perhaps that explains why I've tried to focus on new cuisines, as a way to fill the void.
Nonetheless, growing up in New England meant visiting clam shacks often. Through this lens, I only saw seafood two ways:
Deep fried and served with tartar sauce, or
Buried under a mat of buttery Ritz cracker crumbs baked in a hot oven.
This dish nods to the baked stuffed clams of New England and, at the same time, serves as a love letter to all the different forms that the tamales of Mexico take. A spoonful of stewed alliums and green chiles is placed at the bottom of each clam shell along with the clam that came in it. We then stuff the clam further with corn masa that has been tenderized by bacon fat. The black "dust" atop is carbonized Mexican oregano.
This is how Empellón does clams oreganata. Like most of the dishes here, it comes as the result of engineered authenticity.
-Chef Alex Stupak
Available at Empellón (510 Madison Ave.)
Photo by Evan Sung