Lettuce Leaves With Verde Mousseline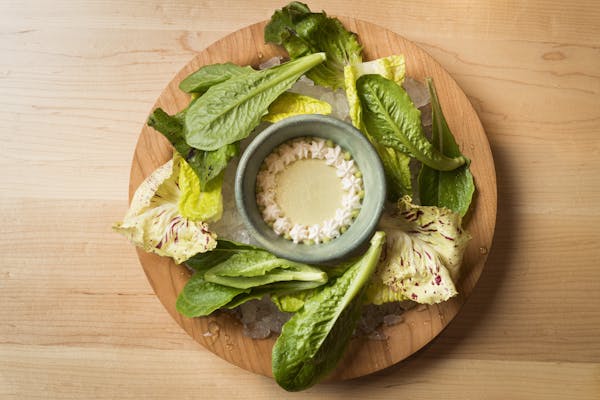 Crudités have become too trendy on restaurant menus. However, I do like the idea of a raw vegetal crunch at the beginning of a meal. Additionally, I love reading a la carte menus and finding descriptions or content that seem out of place. Those two thoughts lead directly to this particular dish.
Like many of our dishes, for me this one is almost all about the condiment. Here we take our standard salsa verde, puree it in a blender and emulsify whole butter into it. The mixture is then cooled, whipped into a mousse-like state, and served with a collection of lettuce leaves. Arranged simply, those crisp lettuces are sprayed with mineral water seasoned with sea salt and lime juice.
It feels like a civilized way to prepare for an onslaught of tacos.
(This dish was served at 510 Madison and is currently retired.)
-Chef Alex Stupak
Photo by Evan Sung