Guacamole With Seven Salsas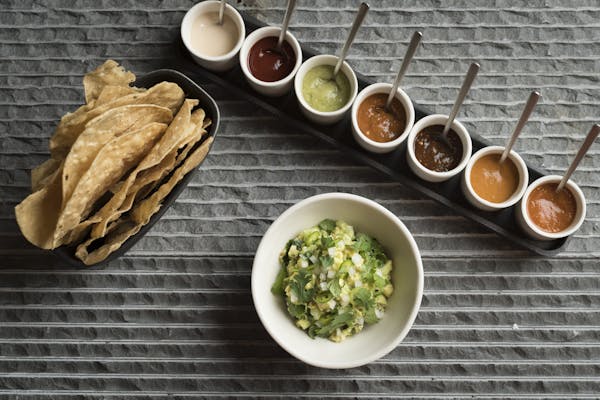 People order guacamole in our restaurants without even looking at the menu.
Guacamole paired with crunchy chips and a margarita is almost always the point for most people eating in a Mexican (or in our case Mexican-inspired) restaurant in the U.S. However, these preparations are actually not implicit at the beginning of a meal in Mexico.
This reality used to really upset me, but over time I've decided that I am the type of chef who wants to give people things that make them happy. More interestingly, I've also learned that if you build trust with people through the comforting and familiar, you create an opportunity to lure them toward the more daring and exotic.
Guacamole functions as our bread and butter, both literally and figuratively. We make ours very well and with minimal ingredients--avocados, onion, cilantro, pickled and fresh green chiles, lime juice and sea salt. That's it.
Salsa adorns, accompanies, or is somehow intertwined with almost every dish we make at Empellón. Salsa defines the flavor of our dishes more so than any other component. No matter how perfectly seasoned or "finished," people love to add their own personal touch to tacos with salsa. For this reason, we offer a collection of seven salsas, which people often opt for at the beginning of the meal.
Although all the recipes are original, versions of almost all of these salsas are really quite common. Our verde and roja salsas are much like the typical red and green duo you find in every taqueria. Our infernal habanero is an iteration of something commonplace in the Yucatán. The only one that is really our own creation is the smoked cashew salsa.
When I opened my first restaurant, Empellón Taqueria, I wanted it to be completely new. Still, I wanted small nods to my past included, if only to remind me of where I came from. Smoked cashews first came into my life while I was making desserts at wd~50. Wylie Dufresne is an endlessly creative chef that I learned so much from, and he used to put all sorts of unexpected products in his smoker, including fruit, pasta dough, and eggs. It didn't take me long to copy him and work smoked cashews into a dessert there.
Here, we puree the nuts with water, salt, and chipotle chile that together comprise a unique dip for the tortilla chips. It's our simplest and most non traditional salsa. It's also our most popular.
-Chef Alex Stupak
Available at Empellón (510 Madison Ave.)
Photo by Evan Sung