Crab Nachos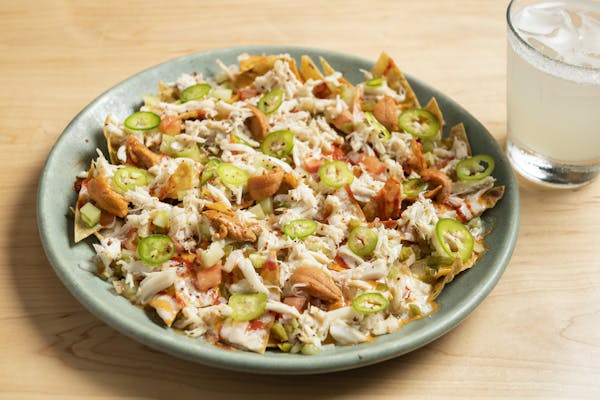 We believe that any dish taken seriously can be amazing. That includes nachos. Here at Empellón, we are bringing this very familiar Americanized dish--something that usually manifests at bars or Super Bowl parties--and taking it completely out of context.
Whether it was created in Mexico or not, the concept of taking tortilla chips and applying gooey orange cheese and topping after topping feels like an American phenomenon. Compare and contrast this with chilaquiles in Mexico, in which crisped up chips simmer in an even coating of salsa.
Now, if I were to describe a dish of toasted corn with crab and sea urchin to you, it sounds as if it has a home on a haute tasting menu. When you describe it as nachos, however, that begins to tug on one's heart strings a bit, hitting this lowbrow/highbrow mash up of emotions that I love.
My favorite part of this dish is the queso, a word which simply means cheese. But in parts of Texas, queso refers more specifically to this orange processed cheese dip. While it has a similar appearance, our "queso" at Empellón is not queso at all, but a mixture of sea urchin, butter, and smokey chilies.
-Chef Alex Stupak
Available at Empellón (510 Madison Ave.)
Photo by Evan Sung