Canela Toast with Brown Butter and Caramelized White Chocolate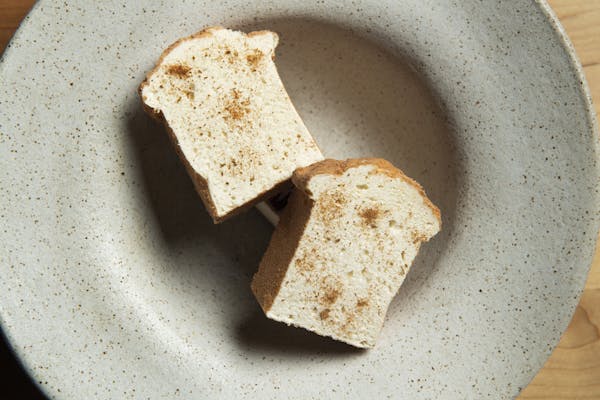 Justin Binnie is the pastry chef of Empellón. He is super talented and was critical in creating what became our iconic dessert menu in midtown. I suspect that once he saw the effect that the avocado dessert had over people he realized how endearing mimetic foods are to people.
Justin is the type that refuses to rest on his laurels, always trying to top his own work. This time I think he really did it. What appears to be a couple of slices of bread is actually a canela-infused crème anglaise that's been aerated, stabilized in place, and "encrusted" in caramelized white chocolate. The resulting texture is profound.
Beneath this false bread you'll find sable crumbs and ice cream flavored with sourdough bread. Additionally, there is canela flavored cajeta, a goat's milk caramel. Essentially, the dish presents cinnamon toast in a re-texturized and Mexicanized context.
-Chef Alex Stupak
Available at Empellón (510 Madison Ave.)
Photo by Evan Sung