Broccoli Stem with Arbol Chile Flakes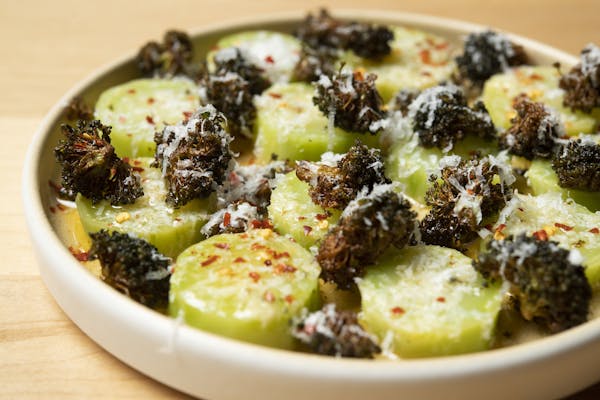 I've never understood why most people see florets as the prized part of the broccoli plant. To me, they always seem waterlogged and flavorless. The stem is the part that has merit, though most people throw the stem out. Next time, instead of chucking it, try peeling it and cooking it however you like. You will find the stem is sweeter than the florets and has a gratifying texture.
People like ordering vegetables on menus because it makes them feel virtuous. As such, we like to offer seasonal vegetables on our menus. In the northeast come fall and winter, we definitely focus on root and cruciferous vegetables.
While considering how to flavor broccoli in an interesting way, we thought of it as a contorni side dish like you might find in a pizza place. We imagined it being flavored with garlic and chile flakes, so we went in that direction. Mojo de ajo means bath of garlic. You can find seafood dishes with it in Veracruz-style cooking. We make ours by toasting garlic in olive oil along with cumin, black pepper, and orange juice.
We dress broccoli stems with this mojo de ajo and then give it a sprinkle of arbol chile flakes that we've processed to look like what might come in a beveled jar beside some parmesan powder in a pizza place. Rather than throw the florets away, instead we fry them until crisp and brown for use as an additional textural element.
-Chef Alex Stupak
Available at Empellón (510 Madison Ave.)
Photo by Evan Sung