Smoked Black Cod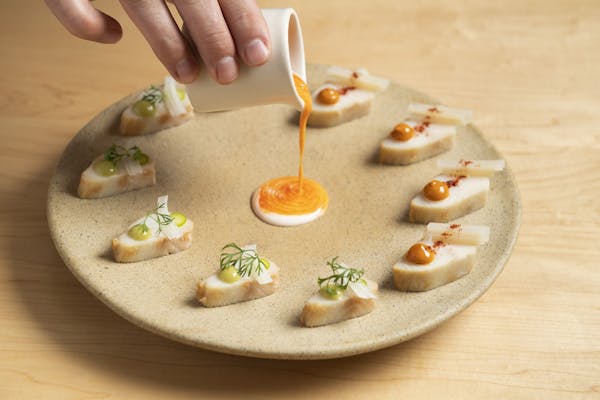 Potatoes fried with crumbly chorizo, loaded into a tortilla, splashed with salsa verde—it's a classic taco, awesome and consistently satisfying. It also happens to serve as the initial point of inspiration for this dish, in which the potato-chorizo combination is distilled into a simple "broken" vinaigrette.
In counterintuitive fashion, we chose to manipulate the potato into the acid phase of the vinaigrette. Potatoes are first cooked at 70° C and subsequently chilled in order to pre-gelatinize their starch. Next, they are cooked again until fall-apart tender in vinegar and then blended smooth. For the oil phase of the vinaigrette, we took good olive oil and infused it with all the spices that normally go into our chorizo.
A vinaigrette needs to dress something. While our chorizo takes cues from Mexican cooks, chorizo has Spanish roots, which made us consider cod as a pairing. Being from New England, I was weaned on cod and have always found its flavor insipid. In contrast, black cod is rich, oily, and takes well to smoking. Seeing as smoked black cod is sold in New York appetizing shops (as sable) and that NYC is our home, we decided that this was the right move.
We slice smoked black cod like sashimi. Half of them are garnished with pickled potatoes, chorizo spices, and chorizo mayonnaise. The other half gets some salsa verde, onion, and cilantro. We squeeze fresh lime over all the slices. Finally, our potato-chorizo vinaigrette acts as a condiment.
-Chef Alex Stupak
Available at Empellón (510 Madison Ave.)
Photo by Evan Sung